What is a blown film?
Blown film extruders produce flexible plastic film. Plastic film is useful for covers, packaging, bags, and more. Blown film consists of the plastic material polyethylene (PE). A variety of PE plastic material is useful for film production, as well as biodegradable PE.
The extrusion process heats up and extrude the plastic raw materials. The material then goes through a ring die and are blown into a vertical film bubble. The process cools down the film using a cooling ring.  The film can be single layer or multi-layer film. The product that comes out of this process is a film in tube form, which can end up as covers, packaging, bags and sacks.
Meaning that the film plastic often is further processed through e.g. bag and pouch making machines. These end-products are for instance: re-sealable packaging with good oxygen and aroma barriers, pet food pouches, twist wrap film, compression packaging, stretch hoods for pallets, cereal film with high barrier against moisture, heavy cargo sacks, fine shrink film. In other words, the film are for food packaging, industrial packaging, waste packaging, carrier bags, sacks, agricultural film (silage film, mulch film), blown stretch film, and many diverse types of bags as mailing bags, security bags, bread bags, etc.
Euro Machinery buy and sell blown film extruders
Euro Machinery buy and sell blown film extruders, which can produce the plastic blown film. We have several types of second-hand extrusion lines available, which can produce blown film. Moreover, we have many years of experience of buying and selling extruders and equipment for extrusion. The extruders we take in are in good condition, and many of the machines we sell are still in production. This means that our customers can inspect the quality of the machine and see the maintenance level. We have many different brands in our data base as Alpine, Reifenhäuser, MAM, Kiefel, Macchi and more.
When it comes to new blown film extruders Euro Machinery is agent for Hosokawa Alpine in Denmark and Sweden. Hosokawa Alpine is in Germany, and supplier of all blown film equipment from pellet feeding systems, film winders, and mono to 11-layer extrusion lines. At Euro Machinery we are proud to represent Hosokawa Alpine, and have been agents for this company for several years.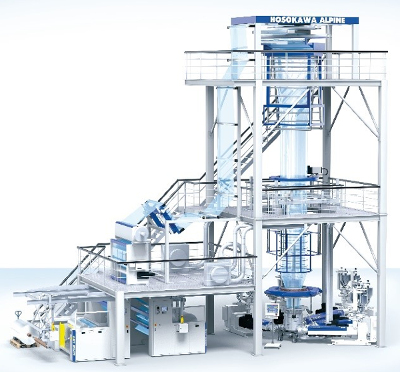 A drawing of a Hosokawa Alpine extrusion line. Below to the right, extruders heat up the plastic material. Then the plastic goes through a die head, and is blown to a bubble. Then the system cools the film down, and winds it up on rolls.
Hereby, Euro Machinery sells both new and used extrusion equipment. The machine categories we work within blown film extrusion are monolayer blown film extruders, co-extruders, and many other types of extruders as well as cast film extruders.