Some of the leading film producers in Europe produce eco-friendly packaging on Hosokawa Alpine's extruders and equipment. Read about Plasta from Slovenia and ELA from Poland.
Plasta – receives 6,500 ton of plastic waste
Plastic waste is a valuable resource to Plasta. The company receives 6,500 tons of post consumer waste a year. Firstly, they clean the waste, then they shred and process it into plastic granulate, hereafter it goes further into plastic film production.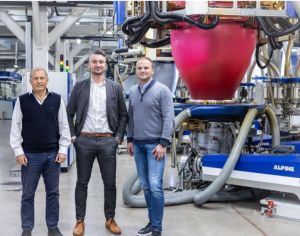 Then the granulate or recyclate becomes a valuable resource for the production of polyethylene films. At the moment, Plasta relies on 5 lines from Hosokawa Alpine: three 3-layer lines, one 5-layer line and a mono-layer line with layflat widths of 1800 to 2300 mm, and another order for for a mono-layer line is on the way from Hosokawa Alpine.
A common challenge with post consumer recycling (PCR) is the very heterogenous nature of the material. Meaning, the quality and the composition of the material can vary a lot. However, the Hosokawa Alpine extrusion lines cope very well with these challenges. The optimal cooling of the film bubble and the supply of cool melt to the line ensure a stable and efficient production process.
See the video about the cooperation between Hosokawa Alpine, and how to turn waste into quality film.
ELA – uses trend-setting technology to produce eco-friendly PE
ELA Specializes in the production of polyethylene packaging for food, rubber and home industries as well as flexographic printing. This company was one of Alpine's first customers in Poland and the business relationship has steadily grown. As a result, ELA have a uniform and harmonized machine park with high-quality solutions.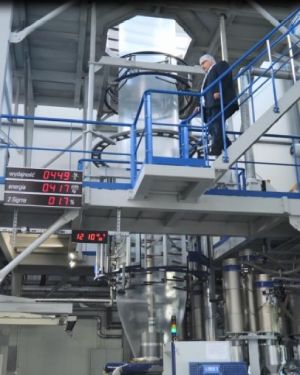 Kornel Laskus from ELA explains that with Alpine's market leading technology and their customer support, ELA is confident and ready to meet the future. Thereby, ready to meet the requirements of implementing a environmentally friendly circular economy products and produce laminating film in a full PE design.
See the video about the cooperation between ELA and Hosokawa Alpine.
The customer stories above are a good example of how Hosokawa Alpine supports customers working with circular economy manufacturing. If you would like to know more about plastic extrusion and eco-friendly packaging, please contact us.
Euro Machinery represents Hosokawa Alpine in Denmark and Sweden. If you would like to know more about extrusion equipment from this world leader, please contact us.
See Hosokawa Alpine machinery here.