We buy and sell used flexo printing machines
Euro Machinery ApS buy and sell used flexographic printing machines within the categories inline or outline stack flexo presses and CI flexo presses.
Description of flexo presses
Flexo presses prints on flexible packaging applications and labels. The method results in high quality printed material such as polyester, OPP, nylon, and PE. Furthermore, the CI flexo printer can press papers, carton board, non-woven textiles, coated or un-coated liner board. The presses efficiently produces large rolls of the printed web. After printing, slitting machines can slit the plastic film or paper into the finished size. Typical end products could be retail and shopping bags, food and hygiene bags and sacks. Other kinds of products and materials could be milk and beverage cartons, paper products, wallpaper and much more.
Moreover, a flexographic press uses a wide range of inks that are with low viscosity and very often water based, and it is perfect to print on many materials. This type of ink means faster drying and printing.
3 types of flexographic presses | flexo printing machines
There are 3 general press types, which are CI flexographic presses, Stack flexographic presses and In-line flexo presses.
The printing itself can be illustrated this way: The anilox roller ensures that the ink is transferred to the flexible plate and from there press on the web.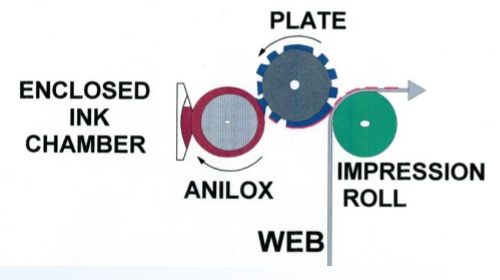 Anilox roller ensures that the ink tranfers to the plate or cliché and there from press on the web. A printing unit, usually consists of anilox rollers, plate cylinder, impression cylinder, and inking system. A scraber can be on the anilox roll, the same as a doctor blade system. This can be used to take way excess color. The illustration describes the process for all 3 types of presses, but the setup differ.
CI Flexo printing – main characteristics
The main characteristic regarding Central impression flexo printing machines is that all printing units is arranged around a central drum. Here is a photo of an 8 color printer. it can print on PE, PP, OPP, PET, Paper. As it can be seen from the photo the printing units surrounds the drum. This type of press offers a high print quality and registration accuracy. Registration accuracy is when the ink combinations is aligned precisely on the substrate.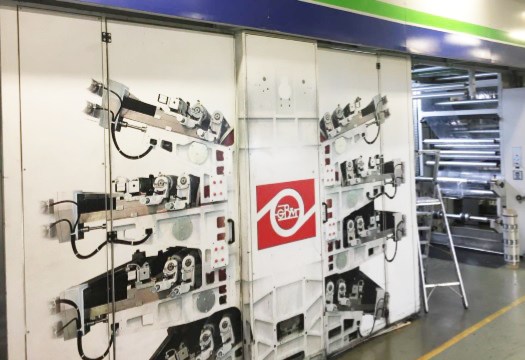 Stack flexo press – main characteristics
Stack presses has the printing units stacked one above the other. Therefore, each station has its own impression roll, whereas the central impression in contrary has the central drum. The photo shows a 6 color stack press. Furthermore, the photo shows how the printing units stacks above each other. Euro Machinery buy and sell both stand alone out off line stack flexo presses and stack flexo presses that are in-line with e.g. extruders or bag machines. Stack presses can print on both sides of the substrate. The presses are also best for small lots.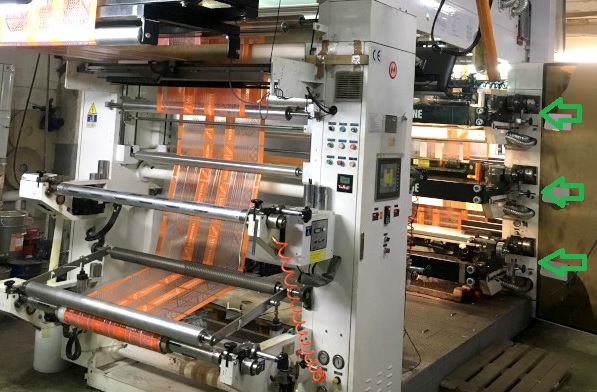 In-line flexo presses – main characteristics
In-line flexo presses has the printing units in a horizontal line. These type of presses are usually suited for more narrow webs, compared to CI flexo presses.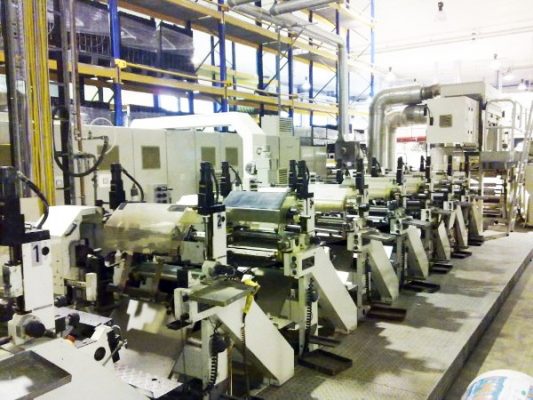 Lastly, all the printers have an unwind and infeed section, printing units, drying system, and a rewind and outfeed section.
How can Euro Machinery help in finding the right flexo printing machine?
We hope that our blog gives a short introduction and small understanding of flexographic printing machines in general. Furtermore, Euro Machinery ApS can help to find the right press, and we have in our data base of machines many types of machines. We have many years of experience in finding the right flexo printing machine to our customers.
Main advantages in buying a used flexo printing machine
When a company decides to upgrade their flexo printing machine it can many advantages to buy a used flexo printing machine. First of all there is a price difference, where the used machine is significantly cheaper. Secondly, very often the machine is available faster compared to buying a new machine where there can be a longer delivery time. Thirdly, it is very often possible to see the used flexo printing machine functioning and in production by an inspection. Moreover, we also carry out video conference inspections, where we offer to see machines at a video meeting and in real-time. If you find a machine that fits your company's needs, you are of course very welcome to contact us and hear more about the possibility to meet on a video meeting.
Take a look on our CI flexo printing machines here
See our Stack flexo in-line presses here
Check out Stack flexo stand-alone presses here
In conclusion, our company sells flexographic presses worldwide, therefore we can also help you to find the right press. If you would like to buy or sell machines, please contact us.