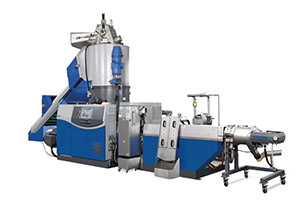 Recycling Machines
Are you looking for a used plastic recycling machine? We have many recycling machines for PE, PP, sale. The range of plastic recycling equipment for sale by Euro Machinery is wide. We have recycling machines, complete recycling lines, grinders and granulators, shredders, and washing lines.
Well-known brands such as Erema, NGR, Battenfeld, Plasmac, Macchi, and others.
Our customers are film and plastic producers who wants top quality recycling machines and extruders. We have many machines available in our database. We can help you to find the recycling machine that best suits your needs. Used machines for sale from Euro Machinery. We are northern Europe's largest machine dealer. Euro Machinery is specialist in trading with second hand machines and equipment for flexible converting.
Buying used plastic recycling machines from Euro Machinery can bring several benefits.
Firstly, the machines are in excellent condition and have been thoroughly inspected and refurbished to ensure their efficiency and reliability.
This means that the used plastic recycling machines can perform at a high level, just like new machines, but at a lower cost.
Secondly, Euro Machinery specializes in European brands of used plastic recycling machinery, which are known for their high-quality standards, durability, and longevity.
This means that customers can trust the used plastic recycling machines to last for years and deliver consistent results.
Finally, Euro Machinery sells on a global scale, which means that customers from around the world can access their used plastic recycling machines and benefit from their expertise.
This also means that customers can find machines that fit their specific needs and requirements, whether it's for large-scale operations or small businesses.
Overall, buying used machinery from Euro Machinery can offer cost savings, quality assurance, and global access, making it a smart investment for businesses in the plastic recycling industry.