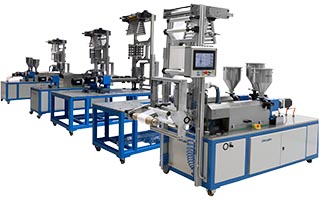 Buy a Laboratory Extruder from us
The laboratory extruder EM LabEx tests batches of plastic extrusion pellets before large scale production. The plastic industry uses more and more bio-material, therefore it is necessary to be able to test many different materials. Test of new types of PE and bio-PE pellets before placing it in the large main production, can save time and money. Furthermore, the result may be a better end-product, because when you test it will help you to find the best material for the task.  Moreover, extrusion productions can with a laboratory mini extruder test without slowing production down.
The EM LabEx Lab Extruders are offered in two different models: EM LabEx Monolayer and EM LabEx 3-layer.
EM LabEx is manufactured by Euro Machinery ApS.
We invite you to take a look at the machines and contact us for more details if you are interested. We'll be happy to answer any questions you might have.
See more on our website em-labex.com.