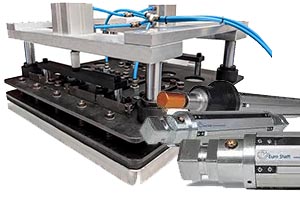 Euro Machinery sells accessories and add-ons to machines
.
The EM Punch Mold & EM Air Shaft
The EM Apron Punch Mold is a quality build mold that can be added to a bag machine to produce disposable aprons. Please see the specifications below, and contact us for further information.
The EM Air Shafts are of the very best quality. Please see examples of our products here under. You are welcome to contact us if you have any questions regarding shafts. We work with large scale orders, and minimum order quantity is 10 pieces.